Turin Turned an Abandoned Tramway into a Linear Park
"Precollinear Park" was supposed to be a temporary reuse of a dead streetcar line. Instead, it became the Italian city's newest green space.
By
Feargus O'Sullivan
|
Turin debuted its first-ever linear park in June 2020, but it wasn't expected to stay open long. A 700 meter (2,300 foot) stretch of former tramway handed over by the city to cultural association Torino Stratosferica for temporary conversion, the green strip straddling a bridge on the River Po in Italy's fourth-largest city was approved as public space for just a few summer months, to give pandemic-beleaguered residents a bit of extra space for outdoor, socially distanced recreation.
Inaccessible, but not barren. Much of the tramway was already shaded by an avenue of mature trees, and thick wild grasses sprouted on the stretch occupying the central reservation of a bridge across the river. It thus took little — some flower boxes here, a few benches and pallets for seating there — to convert the overgrown space into something useable by the public. Over the summer, Torino Stratosferica reopened the space as a public park, using the section on the Regina Margherita bridge to house an open-air exhibition on possible urban transformations for the city, while the old terminus became a small square shaded by mature beeches. All this was managed for the modest cost (so far) of 18,000 euros (about $22,000) raised by Torino Stratosferica, topped up by 2,500 euros in crowdfunding.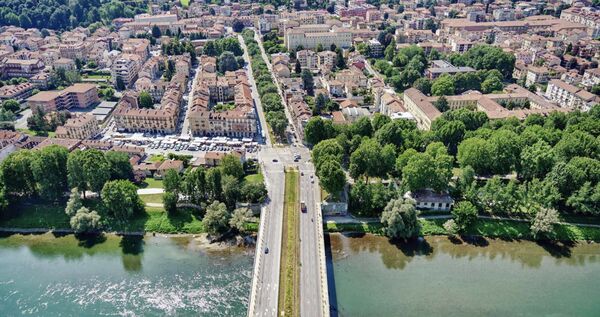 The park project proved especially valuable in 2020. When Covid-19 hit Italy in March, it did so hard and early. Since no other Western country had experienced the full-blown pandemic — and comparatively little was then known about the disease's transmission and treatment — Italians endured a particularly traumatic first wave. City parks closed entirely in March, and anti-transmission measures were widely obeyed to the letter in Italy. Even when conditions eased over the summer, many continued to be avoided public parks, since the low risk of distanced outdoor exercise was not yet fully clear. The open nature of the linear park helped coax back those who had felt unsafe in the conditions of the reopened parks, and also provided an extra strip of pedestrian space for the busy avenues.
"During the quarantine and its unfathomable government decrees, when people were not allowed in parks, some residents felt safe walking their dog at Precollinear Park, and enjoyed the breeze on the bridge, because technically 'this place isn't a real park,'" says a Torino Stratosferica release. These are unusual circumstances, to be sure, but show the value of green areas that straddle the boundary between street and park.
Now it looks like the park may stay. Further exhibitions are planned when the weather warms up, while the strip's edges are due to be planted with cooling, carbon-absorbing bamboo. Looking at the park now — a pleasant but fairly featureless strip of green — it may not look like the radical transformation. But it still shows how to make a city greener and more open even with just a light touch and minimal funding.
Author: Feargus O'Sullivan is a writer for CityLab in London, focused on European infrastructure, design and urban governance (@FeargusOSull).
Article retrieved from https://www.bloomberg.com/news/articles/2021-01-22/in-italy-a-streetcar-mistake-becomes-green-space?utm_source=twitter&utm_content=citylab&utm_campaign=socialflow-organic&utm_medium=social
Cover Photo by Torino Stratospherica: After a streetcar line closed, Turin transformed it into a temporary linear park.