"The world is very turbulent, and you adapt"
How Ukraine is accelerating its digital transformation, even during war
With the support of its donors, UNDP has been working with the Government of Ukraine to increase the accessibility of new digital solutions, so that everyone in the country can use electronic services, and no one is left behind. Photo: UNDP Ukraine/Andrii Krepkykh
When Valeriya Ionan has what she calls a 'silent' day, she gets more done.
For Ukraine's Deputy Minister of Digital Transformation — and one of the highest-ranking women in the Ukrainian government — a silent day means no air raid sirens.
"Air alerts can completely change your schedule in a couple of minutes," she says, describing how the recent launch of a women and economic empowerment project got diverted, but not cancelled, by the threat of air raids. "We had to change our plans and proceed from the shelter. It's difficult to plan, but this is our reality. The world is very turbulent, and you adapt."
Despite being plunged into war, Ukraine is forging ahead with a comprehensive re-think of how business is conducted, and how Ukrainian people interact with each other and with their government.
"We are building the most convenient digital state in the world — without corruption, without bureaucracy, absolutely paperless, and open for everyone," Ms. Ionan says.
The online portal and a mobile application for public services is called Diia, which is Ukrainian for 'action'.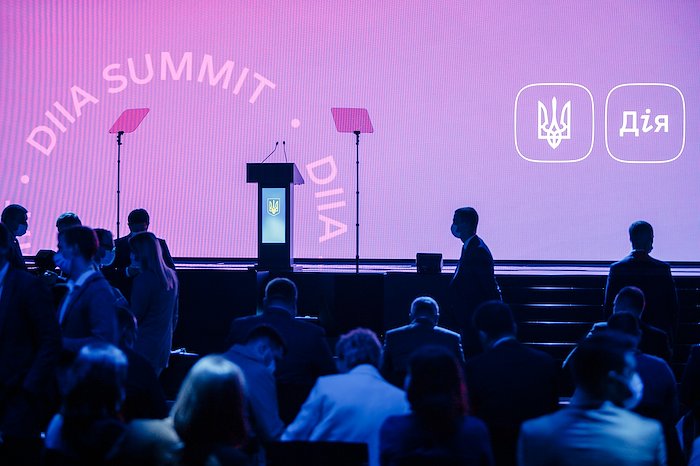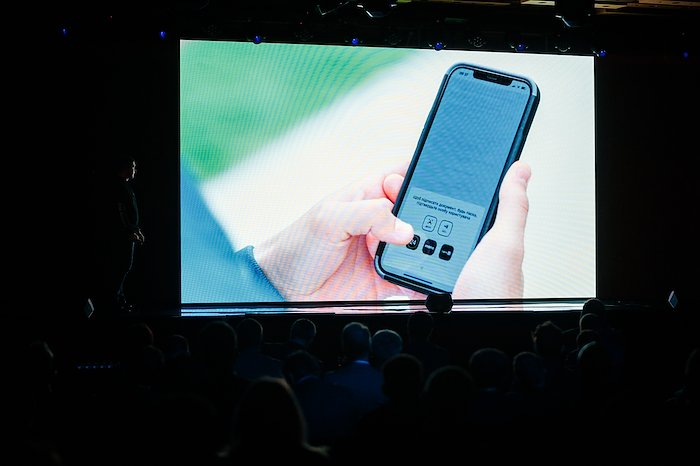 Diia, which also allows Ukrainian citizens to use digital documents on devices for identification, has rapidly accelerated the country's digital transformation. Photos: UNDP Ukraine/Andrii Krepkykh
It aims to move all public services online, cover the entire country with internet access, close the gender and generational gaps in digital literacy, and make Ukraine the most welcoming country in the world for IT companies.
From getting married to registering a business, the ambitious and forward thinking Diia project has proved even more critical during war as Ukrainians can get public services from the safety of their bomb shelters.
Ms. Ionan, a former business leader, joined the ministry when it was formed in 2019. The war, which began two months after her first child was born, has not put a dent in her ambitions.
"We have big plans."
Digital equality is vital to closing the gender divide. 'DigitALL: Innovation and technology for gender equality' is the theme for International Women's Day 2023 and the focus of discussions at the 67th Session of the Commission on the Status of Women.
UNDP has been promoting universal digital literacy with the Government of Ukraine since 2019.
With its donor partner Sweden, UNDP is training women public servants in digital leadership roles and has supported recent STEM graduates with an internship at the ministry.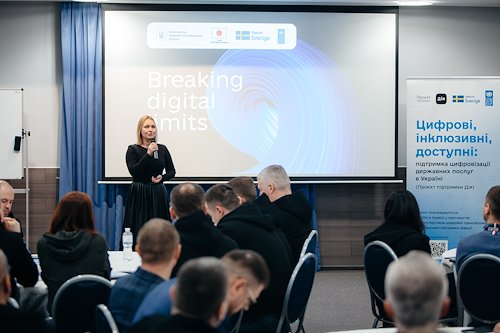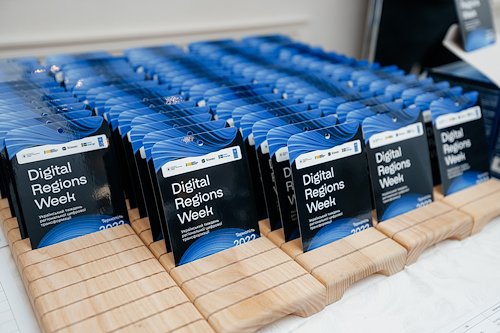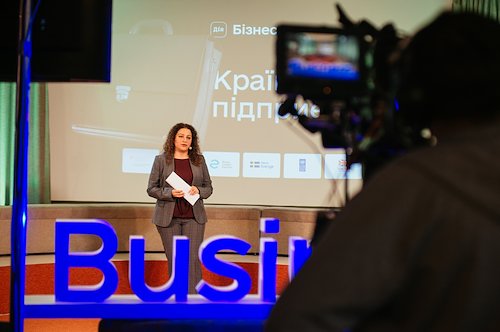 With the support of its donors, UNDP has been working with the Government of Ukraine to increase the accessibility of new digital solutions, so that everyone in the country can use electronic services, and no one is left behind. Photos: UNDP Ukraine/Andrii Krepkykh (left and centre), Ministry of Digital Transformation of Ukraine (right)
A big part of the programme ensures that all Ukrainians have the opportunity to improve their digital literacy. The educational component of the Diia ecosystem – Diia.Digital Education project – helps people pinpoint their knowledge gaps and retrain for new professions. A network of digital education hubs has been set up for those who don't have a smartphone or computer.
Ms. Ionan says before the war there were more than 6,000 of these hubs in libraries, schools and universities.
Diia.Business Centers — an offline part of the Diia.Business project — became the other major point of connectivity and support for Ukrainian entrepreneurs, many of whom have left their homes and moved to other regions.
"Diia.Business Centers became real support points which already helped and which continue to help relocated businesses to adapt in a new region, to start everything from scratch," she says.
Ms Ionan's goal is to "make everyone fall in love with digital", and she is proud that Diia has proved wildly successful — about 19 million Ukrainians use the app and the services associated with it.
"We want this communication between citizens and government to be a few clicks and that's all. You don't need to spend some time standing in some queues, waiting for some paper. It's nonsense."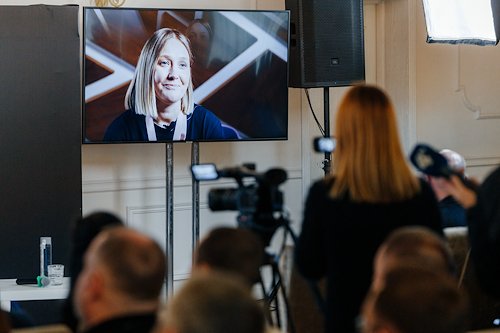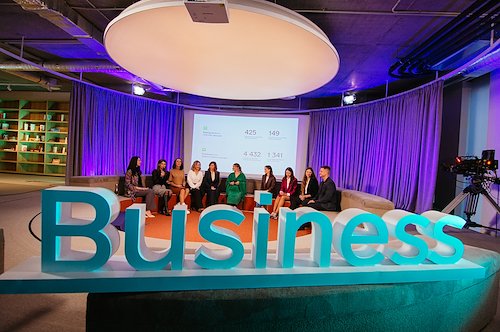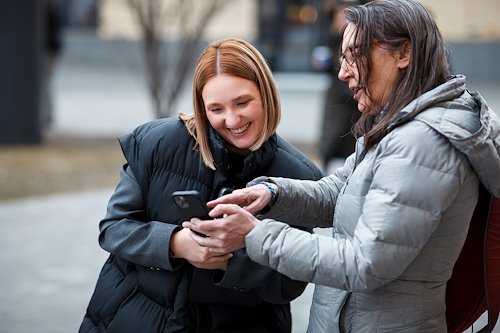 Thanks to online portals like Diia, Ukraine has significantly improved its position in the UN E-government Development Index, which measures internet use and mobile penetration, climbing from 82nd to 46th place from 2018 to 2022. Photos: UNDP Ukraine/Andrii Krepkykh (left and right), Ministry of Digital Transformation of Ukraine (centre)
Ukrainians are also proving that a strong digital infrastructure is one of the essential components of crisis response. The Ministry of Digital Transformation demonstrated its flexibility when the invasion began. Diia was able to quickly adapt to create new services for internally displaced Ukrainians, with support by UNDP and its donor partner Sweden, both for registering their status, and later for cancelling it, and for receiving financial support.
"It took us only two or three days to think fast, for people to find safe places and to continue work, because when you're working for the government, when you're working for the ministry, you have a great responsibility," she says.
Reflecting on the past year, Ms. Ionan says: "We became more resilient, we became more productive, we became more focused on the results. We became as efficient as never before. This is probably the best version of ourselves."
Now Diia is ready to go international, and Ms. Ionan is eager to share Ukraine's knowledge and resources with the world. She sees Ukraine becoming Europe's pre-eminent IT hub as just one of the many ways it can give back.
"We are so grateful for all the support that Ukraine is receiving from all other countries and partners, but at the same time we are also having some great things that we can share with the whole world. We feel ourselves part of the big ecosystem, and we have a lot of great things to support others too," she says.
Published by UNDP on 21 April 2023
Retrieved from https://stories.undp.org/the-world-is-very-turbulent-and-you-adapt